PROFESSIONALS - CAR CARE MEMBER PROGRAM BENEFITS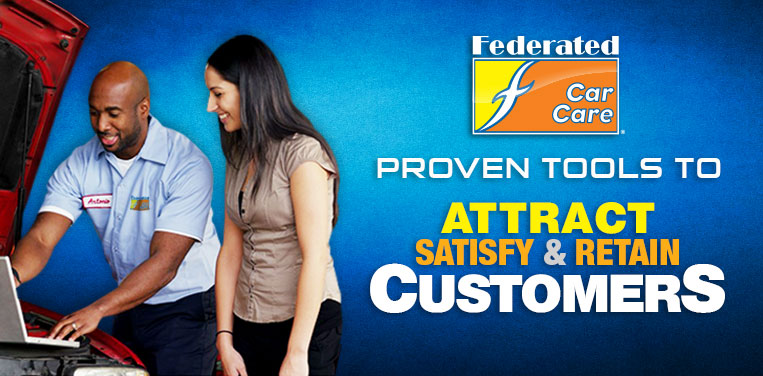 How Can Partnering with Federated Car Care Benefit Your Business Today?
The Federated Car Care Center Program is a nationwide network of independently-owned repair facilities. When you join the Federated Car Care Program you'll become part of this network and receive the tools necessary to attract, retain, and satisfy your customers beyond expectation, helping your business to compete and succeed!
The Federated Car Care Program is tailored to the independent installer who needs an edge in today's competitive marketplace. With image enhancement and business building tools, you can be identified with a national marketing leader while maintaining your independence.
Help Your Customers Stay On The Road
NATIONWIDE WARRANTY
Guarantee your repair work nationwide! Customers pay nothing for the warranty and are protected by a 12-month/12,000 mile, 24-month/24,000 mile, OR 36-month/36,000 mile parts and labor warranty honored at over 30,000 locations.
ROADSIDE ASSISTANCE
Satisfy Your customers with FREE roadside assistance for 180 days! Customers of Car Care Members will be reimbursed for roadside assistance including towing, jump start, lock out services, flat tire changing, & fuel, oil, fluid, and water delivery.
ROAD HAZARD PLAN
The Road Hazard program adds comprehensive protection to the consumer on tire purchases not covered by any tire manufacturer. No upfront investment, you pay after you sell! Convenient online claim filing and fast claim payment.
CONNECT WITH YOUR CUSTOMERS
SIGNAGE PROGRAM
There are many options available, and we will provide you with what you need to give your business a professional and inviting look. Show your Federated colors!
CAR CARE LOCATOR
Consumers can visit this web site to locate the installer closest to them. This service brings new customers to your business that may have never found you otherwise.
CUSTOM WEBPAGE
Don't have a web presence? You do now! Have your own fully customized web site listing the services you provide, business hours, contact information, and more on this web site!
Maintain A Professional Appearance
IDENTITY MATERIALS
New members receive Federated Car Care identity materials such as banners, hats, decals, pens and more and have access to our Car Care eStore for instant purchases of logo products.
AUTONET TV
Custom Lobby TV and Digital Menu Board offerings designed to increase customer trust, boost service sales, inform, and entertain customers in repair and service waiting rooms.
UNIFORM & PAINT
Keep your team & shop appearance both professional and functional. There are many quality uniform and shop & building paint options available to show your Federated colors.
MAKE REPAIRS FASTER AND EASIER
IDENTIFIX DIRECT-HIT
Direct-Hit provides short cut tests, quick fixes, the Motor Parts & Labor Guide and more. Get the job done right with Direct-Hit genuine OEM service and repair information. Special monthly rates to Federated Car Care Members.
IDENTIFIX REPAIR HOTLINE
Professionals helping professionals! This hotline is for Federated Car Care technicians to use for that hard to repair vehicle. Members receive this service at a discounted rate. Only pay when you use the service!
DIAGNOSTICS HOTLINE
One phone call to a technician with an average of 20 years of hands-on, under-the-hood service. Every tech has access to a state-of-the-art automotive library and a symptom and repair database. Per minute, per call charge discount.
TOOLS FOR CUSTOMER SERVICE AND FINANCE
SERVICE CRM
Sell more services, build your brand, manage your customers, and more! EPICOR provides you with a suite of reporting tools to tell you just how well CRS (Customer Retention Systems) and CRM (Customer Relationship Management) is working for you. Discounted FCC rate.
ON-HOLD MARKETING
On-Hold Messaging helps you increase customer share, and the amount you sell to each customer, by keeping your callers updated on your products and services, and then driving them to take the next step in the buying process. Shorten callers perceived hold times. Discounted FCC rate.
LEASING PROGRAM
Great American Leasing can be used by Car Care Members to finance shop and office equipment as well as computers to make purchases affordable. Leasing can provide a way of acquiring necessary assets without impacting bank lines of credit while helping improve cash flow.
PROFESSIONAL TRAINING PROGRAMS
ONLINE TRAINING
The Group Training Academy offers an interactive learning environment that includes leader lead live streams and a 24/7 on-line school with over 200 hours of streaming video covering automotive, counter training, sales and more.
ASE REIMBURSEMENT
Federated strongly urges you to "Certify Your Automotive Professionals" and display your blue ribbon proudly. As a Federated Car Care Professional, you'll be compensated to help offset a portion of the ASE Certification Test Fees.
SCHOLARSHIPS
12 scholarships are awarded annually, each with a value of $2,500, to children or employees of Federated Car Care members seeking a career in the automotive aftermarket. For more details visit www.automotivescholarships.com.
At Federated Auto Parts we believe that success is achieved through pursuit and focus of consistent goals. Our goals have always been focused on the professional technician and providing parts, tools and services needed to compete in this era of rapidly changing innovation and technology. Larry Pavey | CEO, Federated Auto Parts